Xi'an Huan-tai Technology & Development Corp., LTD.
Metal Casting and Export Division
Chinese Castings
Why companies buy steel castings, iron castings and aluminum castings and forgings from China? Are the Chinese castings quality good?
They buy Chinese castings for variety of reasons. Some for reduction of cost, some for accessing world-class capabilities, and others for better focusing on its core resources. Are they happy to buy Chinese castings? Some of them are happy, while others are not. Why? For those who are happy, they get good prices and deliveries. For those who are not, they run into a number of problems. Now, where do we fit in this picture? What do we bring to the customer and what makes us different from those people selling Chinese castings?
We bring value to the table by helping customers to get high quality Chinese castings using our experience, expertise and quality control and schedule control system. This is how we make it work. Currently, our company has 3 major lines of business: computer hardware sales, ERP (enterprise resource planning) software development and export of mechanical and electric products. This website is devoted to basic mechanical parts export.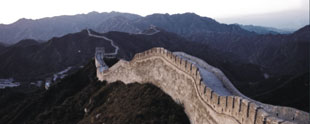 Back to the mid 80's, the managers of the company were involved in the export of Chinese steel castings and iron castings. In the mid 90's, we joined hands in this company, located in Xian, China, to continue the same line of business. Accompanying China's miraculous economic growth for the past 30 years, we have become a mature and established company to help customers to compete worldwide by providing castings that need to be manufactured in the controlled manner. So, what are we and what makes us different?
Most of the products (castings, forgings and components) we supply are built to individual customer specifications. Experienced buyers know that China has been a cheap source for such products - though it is not as cheap as it used to be. But they also know that if the products are not made under good control, you are looking for possible surprises and disappointments, or even worse, disaster. We position ourselves as one of the best organized company in China for custom designed metal components of medium to medium plus degree of sophistication and specification, in that the entire process of manufacturing needs to be controlled. So, how do we work and why?
We are able to maintain our position because we have a group of foundries and factories worked with us for many years. On top of this, we have a team of engineers and quality controllers who constantly monitor the manufacturing process with their knowledge and tools to ensure that the agreed process is followed.
Each time an RFQ is received, our engineering team will review to make sure that the drawings and specifications are fully understood. Proper factories will be selected to participate the quote. This is a pretty detailed and time consuming process, but we only quote to customers when the factories involved fully understand the process and have the proper equipment to manufacture the parts.
If a quote is successful and the customer places a sample order, our engineers and quality controllers will be working with the factory to go through the sample making process and record the key parameters of the manufacturing and conduct the sample inspection. Proper documentation is created and maintained for the future production run, if the sample is double checked by the customer and approved. Prior to the sample shipment, the customer will be provided with the sample inspection reports and pictures and we will answer questions in case there is any from the customer. We believe there is nothing more reliable in creating the quality than the effective process control.
To maintain the consistent quality, our quality controllers watch and monitor the entire process of manufacturing at the workshops to ensure that the same process for sample making is followed for production runs without shortcut. We will inspect the products and provide the inspection reports to the customers for review and approval before shipment is made. This is a costly and painstaking routine process. Nevertheless, this is the only comfortable way that we feel that products we supply are in compliance with the agreed specifications.
It is correct that buying from us may be a bit more expensive than buying from the foundries directly. We believe that we bring stability, consistency and reliability to the business (or in another word, reduce risks), which we call "value". With more than 40 employees in the metal parts export division of the company, we are ready for the challenge. Give us an opportunity with an RFQ and we will bring the value to your company.
We provide Chinese castings (steel castings, iron castings and forgings) for manufacturers of cone crushers, jaw crushers, trucks, tractors, trailers, lift truck attachments, dross presses, pumping units, construction equipment, agriculture machinery, mining equipment, contact nets, recreational vehicle (RV), and etc.
If you have questions, please read our Q & A Section or email them to us.